Correlation
a measure of the strength and direction of the association/relation between two variables.
Might be none (r≈0).
Correlation might mean one variable causes the other but by itself is insufficient to establish causation.
Pearson's product moment correlation coefficient r.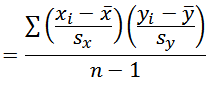 -1 ≤ r ≤ 1

Direction:
x,y both go up together and both go down together: positive r.
One goes up, the other goes down: negative r.

Strength: the closer r is to |1|, the stronger the relationship/association.