capacity: 640Gbps. lit: 180Gbps. length:20890km, started Jan 2001

---
Coax cable: center thick copper conductor D, insulator C, braided metal foil shield/shell/mesh/sleeve B, cable PVC/teflon sheath A.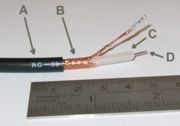 Compared to twisted pair: higher bandwith (eg. 100 TV channels or 10,000 voice channels), lower attenuation, more EMI and crosstalk resistant. Was used for long distance telephone. Was used in 10Base5, 10Base2 but heavy, inflexible and costly compared to twisted pair. CATV and cable modem Internet access use.
---
Infrared
limited to indoors one-room line-of-sight short-range. PAN uses.
IrDA standards.

---
Laser
narrow beam. weather-dependent.
laser